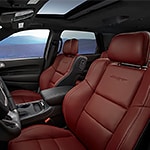 The Dodge Durango is a full-size SUV that is sure to take your family and friends wherever they need to go in style. There is so much going on inside the interior that is hard to know where to get started. From the comfortable seating arrangements to the added amenities, there is something for everyone to be excited about when it comes to this popular SUV.
When it comes to seating configurations, the Dodge Durango has you covered. You will find that there are more than 50 different ways to arrange the second and third row of seats. This gives you all of the space you need for both passengers and cargo.
Since everyone has a different type of style sense, you will love having seven different types and colors of fabric to choose from. This allows you to personalize the interior just the way you want it to look. There is an available leather trim with black and tungsten accent stitching that is simply stunning.